Classroom Spotlight: Students Connect to Local Black Theater Institution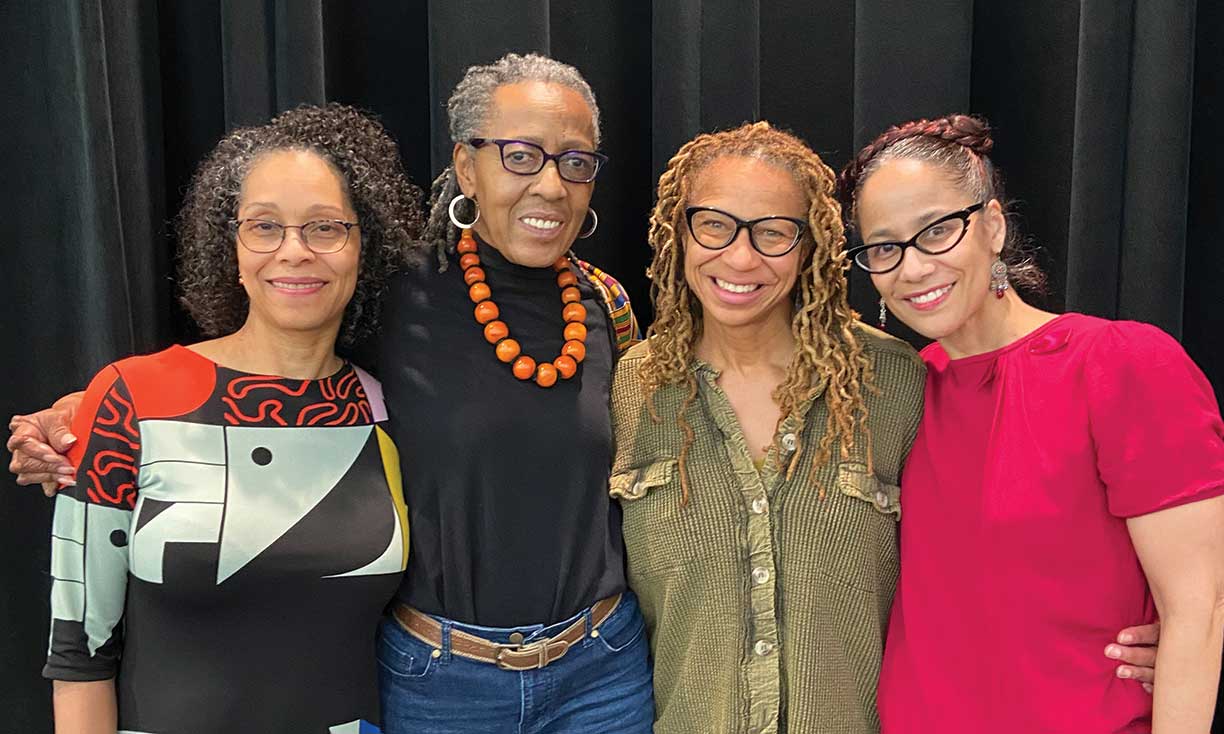 From left, former Carrefour employees Lenora Inez Brown, Sydné Mahone, Shelby Jiggetts-Tivony and Faedra Chatard Carpenter recently spoke at a class.
Photo: Julie Bonnet
During the racial tally following the 2020 murder of George Floyd at the hands of police, Jane Cox, director of Princeton University's theater program, had an idea.
"I spent a lot of time in rooms with mostly white people wringing our hands [and asking], 'What can we do? How can we be better? How can we learn? she said. Her thoughts turned to thriving institutions run by artists of color, many of whom have been around for decades: "Perhaps we could learn from these institutions.
For example, the Tony Award-winning Crossroads Theater Company. Despite its location just 20 minutes in New Brunswick, the University had no prior relationship with the black institution.
Cox, who is white, approached Crossroads and eventually connected with Sydné Mahone, director of play development at Crossroads from 1985 to 1997 and creator of the Genesis Festival of New Plays. With the help of three grants from Princeton and support from CLASSIX, an organization dedicated to black theater, Cox and Mahone's new class, "Storytellers – Building Community Through Art," was born.
In addition to researching the black arts movement and black theatre, the eight enrolled students must see black plays and have written and performed their own creative works. Another important part of the class is a series of six panel discussions where students meet and hear from some of the leaders who founded Crossroads in 1978 and worked there during the organization's early years.
Panelist Faedra Chatard Carpenter cried thinking back to her time at Crossroads. "I felt held and uplifted at the same time," she told the class.
Chemistry student David Ramirez '22 was inspired by the success of the founders of Crossroads. "They had to run their own show, run their own business, take grants, work really late into the night, work with this unideal space. And thanks to that, they all thrived in an incredible and impossible way," he said. "You feel like whatever is thrown at them, it almost doesn't matter. Whether or not they can do it was never even a question.
Rather than setting predetermined goals for the new partnership between Princeton and Crossroads, instructors encourage their students to suggest potential next steps. So far, a shared interest in developing new plays has emerged.
"The challenge really is how does a predominantly white institution like Princeton thoughtfully build a relationship with a predominantly black institution?" said Cox. "That's really the crux of the matter, and I think our students really need to reflect and fight to take this country to the next level."